The new Netflix show Dahmer — Monsters: The Jeffrey Dahmer Story has dominated online discussions for the past week as the show dramatizing the murders of Jeffrey Dahmer continues to divide viewers.
The show follows the timeline of the Dahmer murders from the perspective of his victims, the people who tried to stop him, and those who knew him. dahmer stars Evan Peters as the infamous serial killer who murdered at least 17 men and boys, many of whom were people of color, between 1978 and 1991.
The series has already drawn criticism for turning these real-life murders into entertainment, with the families of some of the victims expressing their objection to the show and claiming that Netflix failed to contact them, consult with them, or even seek permission for their loved ones. murders to be recreated for television.
Recently, an even more disturbing trend has emerged on social media with viewers posting videos claiming the series wasn't gory or gruesome enough.
YouTuber Not Even Emily drew attention to the trend on Twitter with a Viral tweet posted on September 30.
"There's a whole trend of white women on tiktok expressing how the Dahmer series on Netflix 'put their minds at ease' and 'disturbed' them, 'then something is wrong with you," she tweeted.
Not even Emily pointed to some videos made by TikTok users expressing their disappointment that the show didn't go far enough.
A user by, the name of kirsten.soap shared a video with the title: "When everyone is freaking out about how 'kinky' Dahmer's new show is… and you're bummed they didn't show the really kinky parts…"
His video has been met with backlash and he has also received criticism for wearing Jeffery Dahmer earrings.
Another user, named @hereiscourtney, who appears to have deleted her TikTok account, shared a similar video with the caption: "Raise your hand if you were part of the handful of people who didn't mind the Dahmer series at all and are watching it. again". ."
Another user, @tbrissk, shared a video with the caption: "When everyone is having trouble finishing the Jeffrey Dahmer series but you finished it and wished it had more blood." This user also seems to have deleted his account.
When police raided the real Dahmer's apartment in 1991, they discovered a human head in the refrigerator, two plastic bags in the freezer containing a human heart, and another containing a set of male genitalia.
They found five human skulls, knives, hammers and saws in the bedroom. There was also a complete human skeleton in a drawer and a 57-gallon vat filled with acid and three torsos, as well as other body parts.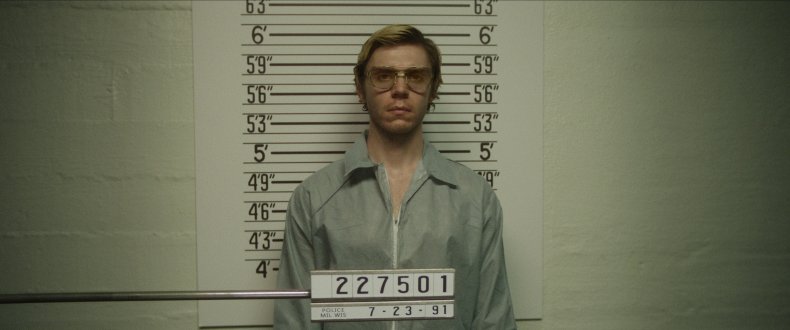 Known at the time as "The Milwaukee Cannibal", Dahmer engaged in necrophilia and cannibalism in his subsequent murders. In recorded interviews with police, Dahmer described his crimes in detail, including his experience eating human flesh.
news week has reached out to Not Even Emily and attempted to reach out to TikTok users who posted about the series for comment.
This trend comes as Netflix removed an LGBTQ label from the series after the streaming giant came under fire for labeling the show as such to begin with.
Meanwhile, Rita Isbell, whose 19-year-old brother was killed by Dahmer in 1991, has spoken about the improvement of the situation has been.
"When I watched part of the show, it upset me, especially when I saw myself, when I saw my name on the screen and this lady saying word for word exactly what I said," Isbell told Insider.
On Twitter, Dahmer victim Errol Lindsey's cousin, Eric Perry, tweeted that the show is "retraumatizing [the family] over and over again, and for what? How many movies/shows/documentaries do we need?